Welcome to the Wooden Canoe Museum, an online museum of all things related to wooden canoes. Use the tabs above to explore the museum.
The most recent additions are listed below.
This is the earliest known ad for the Chestnut Canoe Company.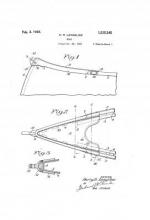 This is the US patent for the Rice Lake Canoe Company's  cast aluminum deck found on their canvas covered canoes.