Sailing Canoes: A Brief History Together with an Outline of Types, Classes, Designs, Specifications and Rules. Published under the auspices of the American Canoe Association. 1935.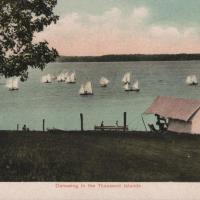 This postcard shows the decked sailing canoe races at the American Canoe Association's annual encampment. The location is probably Canoe Point on Grindstone Island.
Reprint of an article that appeared in Wooden Canoe, journal of the Wooden Canoe Heritage Association.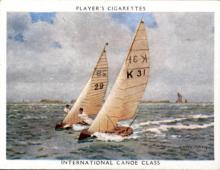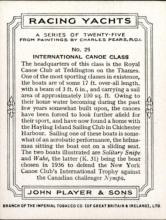 The International 10 square meter decked sailing canoe was the successor to the 16-30 class of the American Canoe Association. 
The canoe with sail number 29 is Solitary Snipe, and the canoe with sail number K31 is Wake. The latter was built and sailed by Uffa Fox, a famed naval architect and canoe sailing enthusiast who won the International Sailing Canoe Trophy on several occasions.
Content type
Vintage Photographs
Writing on the back of this photograph identifies the canoe sailor as Austin Metze, a member of the Knickerbocker Canoe Club.
Content type
Vintage Photographs
On November 12, 1947, Ray Sullivan and his wife, Madeline, set out for the West Indies from Chicago via the Mississippi River.
Content type
Vintage Photographs
Writing on the back of this photograph indicates the canoe was built by John Buckmann, and that it is now part of the collection of the City Island